Looking for something more? Join our team!
We are currently looking for standout legends who are eager to join our team… We currently have 4 different roles available:

WANT TO WORK FOR A FAST 100 COMPANY?
Head to our Recruitment site today to submit your resume and be considered for a role at Reliable Plumbing Services.
Latest Projects
Deakin University DHW Upgrade
We are underway! We have begun the supply and installation of new CO2 heat pumps and hot water storage tanks to upgrade the existing DHW system to 60 on-campus Apartments, Pool, Gym, and the Commercial Laundry. Stay tuned for more updates as the project progresses!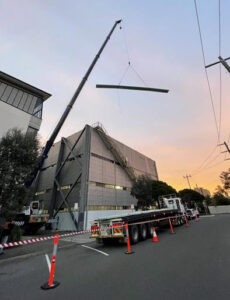 Laboratory and Specialised Projects
We've been busy with multiple laboratory and specialised projects this year. From extending the nitrogen supply and compressed air regulator for new appliances, to the installation of a pen flushing system at The University of Melbourne's Veterinary Sciences Campus.
Let's not forget the top-notch job our team did installing liquid carbon dioxide manifolds within a Bioscience building!
Interested in learning more about specialised projects completed by Reliable?
We thought so.
Check some of them out here.
New Look – Same Great Team!
Our brand new uniforms have arrived and they look great, while keeping the team warm through the winter months.
Look out for our team on campus in their new ELEVEN Workwear Jackets, stamped with the Reliable logo!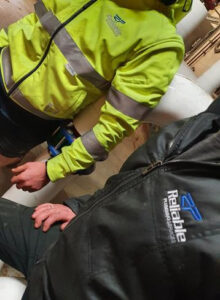 Spotlight on…
Plumbing Technician – Mac 
We recently caught up with Mac to discuss his experience during his first few months as a plumber at Reliable…
"Why did you choose to work at Reliable Plumbing?"
I was working in residential plumbing and property maintenance previously and was interested in learning more about larger commercial projects. The company seemed like a great place to work with an awesome culture that would encourage and support my learning in the commercial sector.
"How has your first few months been so far?"
It's been great! It was a really smooth transition into the company. I was welcomed very quickly with help readily available. The team is young and fun, but there are also older knowledgable staff to learn from as well.
It's a great vibe so far with girls and guys of all ages… It is very inclusive.
I have already been working on some interesting projects learning about different kinds of water delivery systems and working in laboratories.
"What has the most interesting project been so far?"
Definitely working in the laboratory that has been setup at Monash University for hotel quarantine COVID19 testing.
"Do you have any words of wisdom for up and coming plumbers?"
The hours are great, the views are even better and plumbing is a handy skill to have!
---
Congratulations to Cara for her Master Plumbers Apprentice Award! 
We had a great night at the Master Plumbers Apprentice Awards, celebrating the highest achieving plumbing apprentices in Victoria.
With a long list of nominees for each award demonstrating the skill, effort and commitment of the students within the Master Plumbers RTO and Plumbing Apprenticeships Victoria (PAV) programs, we were so proud of Cara taking out the win for MOST OUTSTANDING 1ST YEAR APPRENTICE! Congratulations Cara, your award is well deserved and we are so happy to have you as part of our Reliable team!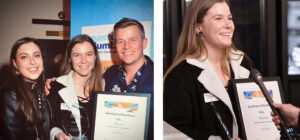 ---
Welcome to our newest Reliable team members!
Tam – Operations and Admin Coordinator
Kevin – Maintenance Plumber
Adam – Maintenance Plumber